August 1, 2015 By Brian Dembowczyk
Church Responsibility
I love the The Lord of the Rings trilogy. It is a compelling story and so, so well-made. If you have seen the films, you might recall a brief scene in the first part of the saga, The Fellowship of the Ring, where Frodo Baggins attempts to slip away from his traveling companions in a boat so he will not put them at risk any longer. It is a noble action, met by nobler response from his gardener and trustworthy friend, Samwise Gamgee.
Sam: "Frodo, no! Frodo! Mister Frodo!"
Frodo (under his breath): "No, Sam. [He continues to paddle away from the shore while Sam runs into the water. Frodo hears splashes in the water and looks back.] Go back, Sam! I'm going to Mordor alone."
Sam: "Of course you are, and I'm coming with you!"
Frodo: "You can't swim! Sam! [Sam is in the deep part of the river now and begins to struggle to swim as he continues toward Frodo. Quickly, he sinks under water.] Sam!"
Frodo reaches into the water and grabs Sam's wrist and he pulls him up out of the water and into the boat.
Sam: "I made a promise, Mister Frodo. A promise! 'Don't you leave him Samwise Gamgee.' And I don't mean to! I don't mean to."
I love that scene. It is perhaps my favorite scene in the entire trilogy because it so clearly conveys Sam's sense of commitment. (As an aside, I contend that Sam is the noblest character in the entire saga.) Sam had made a commitment to travel with Frodo, and he was going to honor that commitment at any cost—even his life.
I wonder if we truly grasp the commitment we have made to Christ and His bride, the church. I don't think many of us have—I know I have a way to go myself.
Here's the thing: when we trust in Christ, we make a binding commitment to Him that we will forsake all for Him and position Him as the Lord and Master of our lives. He is our King. We are His servants. Coupled with that, we also make a covenant promise to be part of the church and live in gospel community with others who have trusted in Christ. Remember, following Jesus is a matter of "me" and "we" at the same time. There is surely an individual aspect of following Jesus, but there is a corporate aspect as well. And they are equally as important.
I would think that most of us get the what it means to be committed to Jesus. We understand the need to practice the spiritual disciplines, to deny ourselves, to live for God's glory as paramount, and so forth. I'm not saying we grasp that fully and I am surely not saying we do it, but most of us can get our arms around that.
But what about our commitment to the church? What does that look like?
The knee-jerk answer is that we should attend corporate worship every week and support the church through our regular giving. Now, I think gathering and giving are important (I'll hit on each in a moment), but that cannot be the barometer of commitment. Surely, Christ has more in mind for His bride than everyone showing up in one place once or twice a week and giving some money.
So what does it look like, then?
I'm going to frame an answer around the mission of the church I attend—City Church in Murfreesboro, TN—because I think my elders hit it on the head. Here is our mission statement:
Gospel. Community. Mission.
That's it. I've been told that the elders wanted to keep the mission statement simple so it can be remembered (and if you have ever been in a church with an extensive mission statement, you can appreciate that). But there is depth to it even in its simplicity.
Let's unpack it, and in doing so, I believe we will answer the question of what commitment to the church looks like.
Gospel
Being part of the church requires that we have trusted in the gospel for forgiveness. But it's so much more than that. I love how J.D. Greear explains it: the gospel is not the diving board into the pool; it is the pool itself. We don't just trust in the gospel to get us started; we cling to it desperately to transform who we are and how we live. That means that we must constantly preach the gospel to ourselves and strive to understand it as deeply as we can. That also means that we must defend and protect the purity of the gospel—because the gospel is what binds us together as a people and also sets us apart from others. This is why regular participation in worship gatherings where the gospel is taught is so important. This is also why it is so important to take advantage of discipleship opportunities—large group, small group, one-on-one, and individual. We must be committed to growing in the gospel.
Community
Part of community is gathering; that's pretty much part of the definition of community. But it is so much more than just being in the same place at the same time. That's proximity. Gospel community is sharing life together.  That means that we need to strive to be transparent with one another. We must be willing to admit our struggles; our questions; our doubts. We must be willing to acknowledge that we are sinners in desperate need of the gospel everyday.
And we must be willing to care enough about one another to confront each other when needed. This is what 1 Corinthians is all about. Paul had received word through Chloe that the Corinthian church was struggling—really struggling. There was some crazy stuff happening in the church. And Paul cared enough—he loved enough—to confront the church. As you read through Paul's letter to the church at Corinth, you will see Paul address several issues and sins plaguing the church:
Divisions in the church (1:10)
Immaturity (3:1)
Immoral church members (5:1)
Lawsuits among believers (6:1)
Sexual immorality (6:12)
Sins in marriage (7:1)
Sins in singleness (7:25)
Arguing over eating food sacrificed to idols (8:1)
Improper use of spiritual gifts (12:1)
Those are some pretty tough issues to address. No one enjoys having hard conversations with others about issues like this, but this is where the gospel comes in. The gospel is saturated with God's pursuit of His own glory and His love for us. That is what prompted Him to sacrifice His Son for us. His glory and His love. And that is what must prompt us to repress our own comfort and desire for ease and confront others in sin. God's glory is at stake. And if we love the other person, we cannot stand idly by. We must be committed to living transparently with one another.
Mission
This brings us to the final part of our commitment to the church: mission. The church exists to make God known to the nations and to bring Him glory across the globe. We do that by sharing the gospel as missionaries wherever we are and by demonstrating gospel community and transformation all around us. That requires our resources—time, money, energy—whatever God has entrusted to us. Living as a missionary wherever we are is not for the elite of the church; it is for the entire church. Each one of us. We must be committed to being part of the mission to bring God glory to the nations, including our own.
Gospel.
Community.
Mission.
That is our commitment. And that is what we need to be teaching our kids. Let's prayerfully raise up a generation that is passionately committed to the church. A generation that takes church responsibility seriously. A generation of Samwise Gamgees.
We made a promise. A promise.
Here is more help for leaders preparing for the August 9, 2015 session (Unit 36, Session 1) of The Gospel Project for Kids.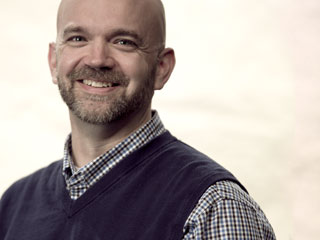 Brian Dembowczyk is the team leader for The Gospel Project for Kids. He served in local church ministry for over 16 years before coming to LifeWay in 2014. Brian earned an M.Div. from the Southern Baptist Theological Seminary and a D.Min. from the New Orleans Baptist Theological Seminary. Brian and his wife, Tara, and their three children – Joshua, Hannah, and Caleb – live in Murfreesboro, TN, where Brian enjoys drinking coffee and teaching 1-3 graders at City Church.