August 8, 2015 By Brian Dembowczyk
Christ's Return Is Anticipated
"This just isn't right," I muttered under my breath. "I don't want to be here."
…
Tuesday, April 5 started out fairly routine. My wife was schedule to see her OB/GYN that morning in Gainesville, Florida. It was one week until our son Joshua's due date, and so far things had gone pretty smoothly in the pregnancy. So we made the 45-minute trip from the small town where we lived to the "big city" of Gainesville planning on a routine doctor's appointment followed by a nice lunch and return home.
But that isn't quite how things turned out.
Tara's normal OB/GYN was on vacation that week and she was schedule to see a new doctor who she didn't know. That made her a little nervous which might explain why her blood pressure read high at the start of the appointment. The doctor didn't like the reading, so he tried a few tactics to help Tara calm down and take her blood pressure again.
Still high.
Out of options, the doctor suggested that we head down a floor to labor and delivery, get Tara hooked up to a monitor, and have her lie down for a while . "What happens if my blood pressure doesn't go down?" "Well, then you are having a baby today."
And that is exactly what happened. As it turns out, Tara was experiencing preeclampsia and Joshua was born just after midnight on April 6, 2005. We stayed in the hospital for the 3 days or so before Joshua and Tara were discharged and we were sent home. What an odd feeling that was when the nurse handed Joshua to Tara, said goodbye, and left us alone with him just outside the hospital doors. We wondered about their wisdom in trusting us with him alone! We were clueless!
And that brings us to the following Monday when I went back to work. As I sorted out my tasks, I just couldn't get my mind and heart settled.
"This just isn't right," I muttered under my breath. "I don't want to be here."
I missed my son. All I could think about was being with him. Holding him. Starting at him. Loving him. Yet, I was in my office. It just felt so wrong.
In this week's session, Christ's Return Is Anticipated (2 Thessalonians 1-3), we're going to talk quite a bit about being ready for when Jesus returns—and we should. We have the tendency to fall into an "out of sight, out of mind" trap. The return of Jesus can become too abstract for us, while the rhythm, pressures, and allures of the world around us are quite real and tangible. Too tangible. So we begin living as people of the world instead of people of Christ. And that is a problem.
So I think it is wise that we warn ourselves and one another to remember that Jesus is returning and we want to be ready for His return. We don't want to be like the wicked slave who goofed off because his master was away (Matthew 24:45-51) and be found being disobedient to the gospel when Jesus returns. That's important. Very important. But, I think we need to be careful about stopping there. We need to go deeper and engage our hearts.
Think about it—we are talking about the return of Jesus! The day when we will see Jesus face-to-face. The day when we are that much closer to the actualized defeat of sin and death and the restoration of all things to God's perfection. We need to be careful about thinking about Jesus' return only in the context of a master returning. Again, we should think of it in that context, but not just that context.
Because if we do, we rip the heart out of our relationship with Jesus. We ignore grace and we are lead to fear alone, devoid of love.
What would it look like if we helped our kids long to see Jesus? To long for His return? Would we not position our kids for lives of promising gospel impact if we helped them to see that this world is not our home—at least not in its present state—and that as wonderful as it is to have God's presence with us always, one day we will be physically with Jesus—the way things should be?
I don't know about you, but I sure want my three kids to feel that way. I want them to feel a desire to be with Jesus that makes my longing to be with my newborn son seem like disinterest. I want my kids to sigh every once in a while as they look at the fallen world around them and mutter, "This just isn't right." And then I want them to echo John—"Come, Lord Jesus!"
Now, again, I also want my kids to maintain a reverent fear of God. That is healthy and necessary. And it is not incompatible with love. We need to maintain a balanced perspective of our loving Father who is also Creator God. But I have seen far too many people fall out of balance and only fear God. And that leads to heartless superficial obedience so often. Just ask the Pharisees.
No, I want my kids to say, "Come, Lord Jesus" and then follow that immediately with, "but just know that I am being obedient as I wait for You!"
What excites you most about the return of Jesus? Share your thoughts in a comment below. 
Here is more help for leaders preparing for the August 16, 2015 session (Unit 36, Session 2) of The Gospel Project for Kids.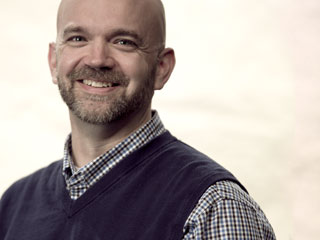 Brian Dembowczyk is the team leader for The Gospel Project for Kids. He served in local church ministry for over 16 years before coming to LifeWay in 2014. Brian earned an M.Div. from the Southern Baptist Theological Seminary and a D.Min. from the New Orleans Baptist Theological Seminary. Brian and his wife, Tara, and their three children – Joshua, Hannah, and Caleb – live in Murfreesboro, TN, where Brian enjoys drinking coffee and teaching 1-3 graders at City Church.