December 5, 2015 By Brian Dembowczyk
CHRISTMAS: Angels Spoke to Mary and Joseph
Well, last week we went to seminary together, rolled up our sleeves, and jumped into the deeper waters of theology. I hope that it was meaningful. However, this week, and the following two weeks, I want to take a different approach together—a more practical approach.
As we begin our three-session Christmas unit this week, I want to take each session and provide a few suggestions and tips on how you can connect with your kids' hearts during this wonderful and important time of the year. So with that in mind, here is our outline for the next three weeks:
Angels Spoke to Mary and Joseph: Fostering Gospel Wonder in Your Kids
Jesus Was Born: Fostering Gospel Joy in Your Kids
Wise Men Visited Jesus: Fostering Gospel Worship in Your Kids
So let's get right to it. First up: gospel wonder.
I love Mary's response when an angel appears and speaks to her in Luke 1:28-29.
And the angel came to her and said, "Rejoice, favored woman! The Lord is with you." But she was deeply troubled by this statement, wondering what kind of greeting this could be.
Now, the angel's message was positive, yet Mary still seemed concerned by it. I think this reveals part of Mary's character—a deep humility—that caused her to wonder why she was favored and why the Lord was with her. It also reveals the reflective, thoughtful nature of Mary that we see several times in the first two chapters of Luke. We see it here, then in Luke 2:19 when Mary treasured in her heart the events surrounding the birth of Jesus and mediated on them. We also see it in Luke 2:51 when Mary kept in her heart the events of Jesus being in the temple as a 12-year-old. She just seems to have this thoughtful way about her where she processed what God was doing around her, internalized it, and cherished it. I love this about Mary and I want my kids to be the same way, and I am sure you want your kids to be this way, too.
So what can we do to foster a sense of wonder in our kids? Here are five suggestions to get you started:
Express your own wonder.
Don't lose sight of what we do each week—we open up God's Word and show our kids the glory of God, the splendor of Jesus, and the beauty of the gospel! That is a task that is filled with wonder and awe and we need to let our kids see that in us. We need to model wonder and awe for them. Let's teach with authentic passion, enthusiasm, awe, and even tears at times. Our kids need to see the gospel move us deeply.
Give your kids a map, not a GPS.
Here's what I mean by that. A GPS will tell you exactly how to get where you are going and prompt you for every single turn, and if you miss a turn, it will even recalculate and prompt what to do next. A map, on the other hand, requires you to sit down and study the best way to travel and if you make a wrong turn, you have to sit down again and think through where you are and how to get back on track. GPS requires no thought. A map requires plenty of it.
We want to put a map before our kids—we want them to have to think about the gospel. We don't want to give them all of the answers like a GPS. I have always shared that the key to being a good teacher is not telling kids what they need to know, but knowing the right questions to ask to lead them to learn what they need to know on their own. Giving the answers is giving them a GPS. Asking questions—especially "why" questions—is giving them a map. And when kids grapple with the gospel on their own and come to a better understanding of it, their wonder will increase as well.
Embrace the mysteries of our faith.
Let's be clear about this: there are things about the Bible, God, and the gospel we simply can't understand. And that's OK. Actually, it is more than OK. We should be grateful for these mysteries, because if we completely understood God and His ways, He wouldn't be that impressive, would He? Let's resist the urge to turn away from these mysteries and unanswerable questions in an effort to shield our kids, and let's embrace them instead. These mysteries remind us of the depth and complexity of God and when we see more of His infinite majesty, wisdom, and glory, we are drawn to marvel at Him more. So let's not be afraid to leave questions unanswered and give our kids space to see the vastness of our God. Look at Paul's response after penning four chapters of Romans (8-11) concerning the mystery of God's sovereignty—a topic that many run from and that sadly divided God's people today:
Oh, the depth of the riches
both of the wisdom and the knowledge of God!
How unsearchable His judgments
and untraceable His ways!
For who has known the mind of the Lord?
Or who has been His counselor?
Or who has ever first given to Him,
and has to be repaid?
For from Him and through Him
and to Him are all things.
To Him be the glory forever. Amen.
This divine mystery pushed Paul toward wonder and worship, and mystery can push our kids there, too.
Get beyond the classroom.
The gospel and following Jesus cannot be just academic for our kids. We need to help our kids move the gospel outside of the classroom and connect it with real life while we simultaneously invite real life into the classroom. As you teach, share how God and the gospel have impacted you. Share stories about times you have been in awe of God, how you have grown, and what still makes your jaw drop. Guide your kids to really think through how the gospel should transform them each and every day. Encourage them to share stories of God at work in them, and through them. Studying the gospel produces wonder, but experiencing the gospel takes that to a whole new level.
Point everything to the gospel.
We want our kids to read every story in the Bible—every page—every word—and ask what it reveals about the gospel. Walking away from the story of David and Goliath thinking that the big idea presented is that we should be brave like David doesn't produce wonder. If anything it produces dejection because few of us can be that brave! Instead, walking away from the story of an unlikely hero who stood up against a seemingly unbeatable enemy and killed him with one shot bringing about the victory for his people and seeing the picture of Jesus and the gospel presented through it produces awe. Show your kids the beauty and majesty of the gospel every week and you will fill them with wonder.
How do you help foster wonder in your kids? Leave a comment below.
Here is more help for leaders preparing for the December 13, 2015 session (Unit 5, Session 1) of The Gospel Project for Kids.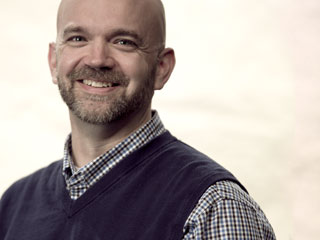 Brian Dembowczyk is the team leader for The Gospel Project for Kids. He served in local church ministry for over 16 years before coming to LifeWay in 2014. Brian earned an M.Div. from the Southern Baptist Theological Seminary and a D.Min. from the New Orleans Baptist Theological Seminary. Brian, his wife, Tara, and their three children—Joshua, Hannah, and Caleb—live in Murfreesboro, TN, where Brian enjoys drinking coffee and teaching 1-3 graders at City Church.