September 19, 2015 By Brian Dembowczyk
Cain and Abel
Several years ago when I was pastor of a church in Kentucky, I went out to lunch with a group from the church and was introduced to my first hot brown. They had two sizes—regular and large—so of course I ordered the large and I enjoyed every bite of the creamy, cheesy bacon and turkey sandwich.
As I finished my lunch, one of the ladies in the group said, "You know, Brian, they have this huge brownie sundae here that I have never seen anyone finish. I'll buy you one if you think you can finish it."
Two things I need to mention at this point. First, I don't back down easily from a challenge. Second, this kind, sweet lady set me up. She knew all along that she was going to challenge me to this and yet she allowed me to order the large hot brown instead of the regular one.
Needless to say, I finished the brownie sundae (although I really only enjoyed the first half of it). Also needless to say, I had a stomach ache for pretty much the rest of that day. But, alas, like a moth to the flame, I kept shoveling brownie ice cream goodness into my mouth. Spoon after spoon. I knew better, but I didn't listen to my brain or my swelling belly. I listened to my pride instead.
All of us are that way when it comes to sin, too, aren't we? We know better, yet we find ourselves drawn toward sin and the next thing you know, we are sick to our stomach spiritually. We weren't the first. I'm sure Adam and Eve felt that way right after the Fall, and we know that Cain did soon after.
As you walk through Cain and Abel (Genesis 4:1-16,25-26) with your kids this week, you will want to help them understand how serious sin is and how we are all susceptible to its pull. We often hear people talk about their sin with a "the Devil made me do it" or a "the world is pulling me down" mentality. It is certainly true that Satan and his demons are active in leading people astray. It is also certainly true that the world's fallen systems entice people to rebel against God. However, we have to be careful that we don't give our own flesh a free pass.
We are quite good at sinning on our own without the help of Satan or the world.
Notice that God warned Cain bluntly that if he was not careful, sin would devour him. That is a warning we want our kids to hear and appreciate. As much as we love our kids, as cute as they are, and as innocent as they seem, let's not forget that they are sinners by nature, just like us. They want to sin. They enjoy sin. And the world is indeed making it easier for them to give in to sin.
So don't miss this opportunity to talk with them about how serious sin is. But at the same time, we don't want to demoralize our kids and lead them to believe that there is no hope. This is the perfect opportunity to share the gospel and talk about how following Jesus is not a matter of what we can do for Him, but what He has done for us. Through Christ's death and resurrection, He has provided total forgiveness for all who trust Him. And because of the gospel, we can live in freedom and grace, knowing that we are fully forgiven and fully accepted by God.
With all of that said, here are seven action steps you will want to help your kids take as they develop a proper doctrine of sin:
Take all sin seriously. Sin should never be taken lightly. We have to fight a common tendency to view some sins as not really as bad as others ("Oh, it was only a harmless little white lie!"). While it is true that sin has different consequences—some of which is much more serious than others—all sin is an act of rebellion against God and all sin harms us and others to some extent.
See sin for what it really is. Sin is appealing. It feels good. That's why we do it! We can't ignore or minimize the fleshly appeal of sin that our kids face. But at the same time, we have to help our kids realize that the momentary pleasure sin gives is just that—fleeting, superficial pleasure. The pleasure of sin doesn't last and it certainly doesn't provide true joy which is found only in Christ. And when that fleeting pleasure of sin dissipates, we are left with the ugly consequences which were hiding in the shadows. We need to help our kids see through the momentary pleasure of sin and instead look at the big picture and the long-term impact of sin. That's hard for adults and even harder for kids.
Fight against sin. We are so used to telling our kids to stop fighting that we sometimes forget to tell them when they should fight—and this is one of those times. We should be at war with sin. Every minute of every day should be a struggle to put sin down and allow the Holy Spirit to rise up and guide us instead. We are to fight to keep every thought captive to Christ and to guard our hearts as the wellspring of life. We need to borrow the mentality of Winston Churchill and decide that we will never stop fighting and we will never surrender.
Keep a short account of sin. Life is busy. We have poor memories. We don't want to reflect on how sinful we are. All of these roll into an ongoing struggle with keeping a short account of our sins so that we can confess them to God and come clean before Him. While, in Christ, we are forgiven, that does not mean we do not need to confess our sin to God and lean on Him for moving us away from sin and toward godliness. We need to teach our kids to go to God regularly—daily or even more frequently—and allow the Holy Spirit to search our actions, our thoughts, and our hearts and to purge every last bit of sin He finds. This is also a good time to talk with our kids about having someone hold them accountable. If we can get kids to take gospel community and accountability seriously, we will position them well for the rest of their lives.
Repent of sin. When our kids do sin, and they will, they need to understand their need to quickly and sincerely repent. It isn't enough to be sorry they got caught. It isn't enough to repent just to avoid sin's consequence. They need to come before God with a deeply troubled and repentant heart. They need to grieve how they have sinned against God and how they have brought God dishonor as His child.
Rest in grace. This is so important. We need to help our kids understand what grace is and how to live in it. Our culture is so used to conditional forgiveness and has such a warped sense of justice that we have to deliberately teach what true justice and forgiveness are. Recognizing the seriousness of sin and grieving when we sin does not mean that we allow it to linger and fester in our hearts and defeat us. We need to help our kids learn to repent of their sin and then turn that grieving to joy as they bask in God's unending grace.
Let your appreciation for Jesus propel you toward godliness. This last point serves as a hinge to take us back to the first point. The gospel should develop such a deep and profound love and thankfulness for Jesus that that love and gratitude motivates us to live in obedience and with ever-growing godliness. That must be what primarily motivates our kids—not a desire to be loved more by God. When gospel gratitude is the beat of our hearts, we will take sin seriously and see it for what it really is.
What do you share with your kids about sin? How do you balance warning them about sin without making them feel defeated?
Here is more help for leaders preparing for the September 27, 2015 session (Unit 1, Session 4) of The Gospel Project for Kids.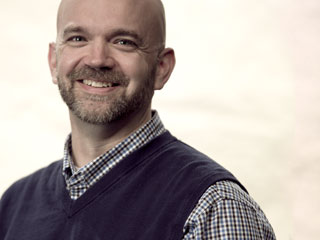 Brian Dembowczyk is the team leader for The Gospel Project for Kids. He served in local church ministry for over 16 years before coming to LifeWay in 2014. Brian earned an M.Div. from the Southern Baptist Theological Seminary and a D.Min. from the New Orleans Baptist Theological Seminary. Brian, his wife, Tara, and their three children—Joshua, Hannah, and Caleb—live in Murfreesboro, TN, where Brian enjoys drinking coffee and teaching 1-3 graders at City Church.