December 13, 2016 By Brian Dembowczyk
Anticipating the Coming King
I was planting flowers in our front yard when I learned that we were pregnant with our first child, Joshua. I know that because my wife still rolls her eyes at what I did moments after she shared the news with me. I went to the hardware store.
In my defense, I had been working in the yard the better part of the day and I needed to get some more soil or something to get the plants into the ground before it got dark. But that didn't matter to my wife that day. I think she was stunned that I told her I needed to go to the store moments after she called me to the front door to share the news with me.
What can I say? I am task-oriented.
From that moment on—for the next nine months or so—time seemed to craaaaawwwwllll by. I was so anxious to meet my son! What would he look like? (His mom, we hoped.) What would it be like to hold him for the first time? I just couldn't wait. But I had to. It seemed like it took forever, but finally, Joshua was born and I got to see him and hold him for the first time. At last.
Except for the hardware store trip (I'm slow, but I'm not a fool!), the story was the same for our other two children—Hannah and Caleb. Waiting for them to be born seemed like it took years—decades—not months.
But my waiting for Joshua, Hannah, and Caleb was pretty puny compared to waiting for another baby. Of course, I'm talking about the world waiting for Jesus.
From mankind's perspective, we began waiting for the coming of Jesus all the way back in Genesis 3:15 when God promised that a seed of Eve would crush the serpent. That seed of course would be Jesus.
The waiting continued all the way through the rest of the Old Testament and the several millennia it took for history to unfold.
Generation after generation. Surely parents would often ask if the baby son who was born to them would be the one. Surely hopes raised and lowered based on the circumstances around each generation.
But as the excitement, disappointment, and frustration of the people grew, the prophets continued to proclaim that the Messiah was coming—knowing it would not be that day. Their wait would continue. Listen to what Peter wrote about this wait and the prophet's role in 1 Peter 1:10-12.
10 Concerning this salvation, the prophets who prophesied about the grace that would come to you searched and carefully investigated. 11 They inquired into what time or what circumstances the Spirit of Christ within them was indicating when He testified in advance to the messianic sufferings and the glories that would follow. 12 It was revealed to them that they were not serving themselves but you. These things have now been announced to you through those who preached the gospel to you by the Holy Spirit sent from heaven. Angels desire to look into these things.
Notice in verse 12 that Peter wrote that the prophets knew that their prophecies would not come to pass in their day—but in a future day, during the generation to whom Peter wrote lived.
While the people may have been frustrated waiting and the prophets disappointed they would not see the glorious fulfillment of their prophecies in the flesh, we know that Gods' timing of giving Jesus was perfect. (Galatians 4:4)
As you prepare to teach Anticipating the Coming King (Unit 17, Session 1) this week, keep that in mind. God's timing was perfect in giving the long-awaited gift of Jesus to the world. And His timing is always perfect in every other area of life too.
Your kids are all waiting too. Many of the things for which they are waiting are rather inconsequential such as a Christmas present or to be old enough to drive. But some of things for which they are waiting are far from inconsequential.
Reconciliation between their parents.
Healing of a loved one.
An end to being bullied.
A friend.
Take this opportunity to remind them of God's love and perfect timing that is proven in His gift of Jesus. Our kids need to be reminded of God's goodness. Encourage them that they aren't alone in waiting and anticipating and God is not as far off as He might seem at times. Remind them of the gospel.
What are you waiting on that you need to remember God's perfect timing? Leave a comment below.
Here is more help for leaders preparing for the December 18, 2016 session (Unit 17, Session 1) of The Gospel Project for Kids.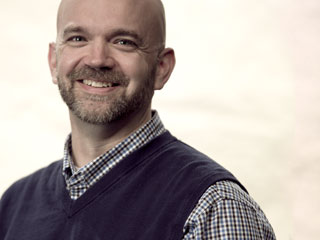 Brian Dembowczyk is the team leader for The Gospel Project for Kids. He served in local church ministry for over 16 years before coming to LifeWay. Brian earned an M.Div. from the Southern Baptist Theological Seminary and a D.Min. from the New Orleans Baptist Theological Seminary. Brian, his wife, Tara, and their three children—Joshua, Hannah, and Caleb—live in Murfreesboro, TN, where Brian enjoys drinking coffee and teaching 4-5 graders at City Church.