April 2, 2016 By Brian Dembowczyk
Achan's Sin and the Defeat of Ai
My kids have a bazillion LEGO®. (Yes, bazillion is a word and yes, LEGO® is plural.) And along with their mass quantity of LEGO® comes an equally high probability that I will step on some—every single day. If you have ever stepped on LEGO® with bare feet, you know that it is one of the more painful experiences you can have. It's amazing how much pain such a little piece of plastic produces!
That isn't quite our perspective when it comes to sin though, is it? We often think of different categories of sin.
There are those really, really serious sins. The big ones.
Then there are those ordinary sins. The medium ones.
Then there are those pretty mild or benign sins. The small ones.
Sure we might have more categories or we may define them a little differently, and sure we may disagree on which sins go into which categories, but we all seem to think in terms like this at least at times. In fact, there's even a theological word for little sins—peccadilloes (not to be confused with mammals with leathery shells or a chain of cafeterias in the south).
Now here's the thing: sins often have different immediate consequences—murder should have a different consequence than jay walking—but we are in trouble if we begin to parse sins in terms of their nature before holy God.
Oh, it's only a stapler. It's not like my company will miss it and they owe me. I've earned far more than a stapler from them.
Well, claiming that on my taxes might not be technically correct, but it honors the spirit of the law.
It was only a little white lie.
The music companies and artists make plenty of money. I'm not really hurting anyone from downloading these songs.
You get the idea.
I wonder if something like that went through Achan's mind when he saw a coat, some silver, and some gold in the ruins of Jericho that day.
It's only a little bit of gold and silver. No one will miss it! And the coat is going to be destroyed anyway. What a waste!
And you know what happens in the rest of Achan's Sin and the Defeat of Ai. (Joshua 7—8) God disciplines His people because of Achan's sin—even if Achan may have thought that it wasn't a big deal. 
I want to get back to the notion of "little" sins in a minute, but first, let's deal with the big elephant that just stepped into the room and plopped down in the corner. And that would be an elephant named Fairness. The story of Achan often raises the question of fairness—how was it fair that God punished Israel for one person's sin? That doesn't seem fair. And I acknowledge that seems to be the case from a human lens. But here are three reasons why God was, of course, completely just for what He did that day:
The Theological Reason: There is a theological precedence for one man's sin impacting an entire people's sin, and it is a big one: Adam. Just as Adam's sin impacted all of humanity, Achan's sin impacted Israel's and God was right to hold all the people accountable.
The Community Reason: This reason is tied to the theological reason, but is deserves its own explanation. We often value independence and autonomy way more than we should. Now it is important to recognize our individual responsibility before God, but at the same time, God also deals with communities, not just individuals. And when we are in community—true community—what we do will impact others—for better or for worse. Achan didn't just fail God; he also failed his community. And one could argue that the community also failed Achan. Something was amiss in Achan's heart to drive him to take the items from Jericho. Who was leaning into his life to point him toward loving God fully so that he would live with unwavering trust and obedience to Him? God was right to hold the community accountable for one person's sin, because that is at the nature of community. People in true community encourage one another and hold one another accountable. They step into each other's lives to push them, or pull them, toward God.
This story reminds me of Ananias and Sapphira in Acts 5. Ananias and Sapphira lied about how much of the proceeds of a sale they gave to God and God struck them down dead for their lie. This sounds so severe, too. But do you see what God was doing in each case? He was offering a stern, but gracious warning to His people. With Achan as the people were in the beginning stages of the conquest, and with Ananias and Sapphira as the people were in the beginning stages of the church. God is essentially nipping this sort of sin in the bud to prevent it from taking root during these two foundational periods.
The Practical Reason: This last reason once again builds from the previous reason but deserves its own explanation as well. Many sins (most? all?) impact innocent people. And by innocent I do not mean sinless, but innocent in that particular action. Murder. Theft. Lying. You name it. All sin is ultimately against God, but we know that practically, it impacts other people as well. So Achan's sin that day was like many (most? all?) sin—it impacted innocent people around him.
Now that we have put that elephant to sleep, let's get back to why all sin is so serious. And that is because it is all active, willful rebellion against holy God. What makes sin serious is not the nature of the sin itself, but the nature of the One being sinned against. We really can't forget that. When we take sin lightly, we are actually taking God lightly! The only way we can think sin—any sin—is no big deal is if we see God as no big deal.
But if we have a weighty view of God… if we have a robust understanding of the gospel… if we have a realistic view of ourselves… we will see every sin as a major act of rebellion deserving death. Every single one.
Let us be quick to see sin—all sin—for what it really is so that we can fully bask in God's limitless mercy and grace.
How are you teaching your kids to see all sin for what it really is? Leave a comment below.
Here is more help for leaders preparing for the April 10, 2016 session (Unit 7, Session 4) of The Gospel Project for Kids.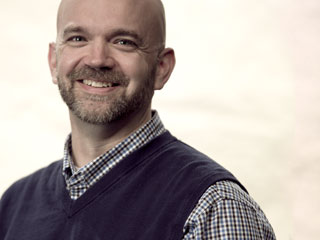 Brian Dembowczyk is the team leader for The Gospel Project for Kids. He served in local church ministry for over 16 years before coming to LifeWay. Brian earned an M.Div. from the Southern Baptist Theological Seminary and a D.Min. from the New Orleans Baptist Theological Seminary. Brian, his wife, Tara, and their three children—Joshua, Hannah, and Caleb—live in Murfreesboro, TN, where Brian enjoys drinking coffee and teaching 1-3 graders at City Church.