Spring Training has begun! Baseball has always been my favorite sport. I never learned to play it very well, but I love the game all the same. I grew up in Baltimore in the 70s and early 80s meaning I was spoiled by being able to head to Memorial Stadium to watch one of the best teams in the game play every summer—the Baltimore Orioles.
Palmer. Bumbry. Murray. Dempsey. McGregor. Martinez (D. and T.). Singleton. DeCinces. Flanagan. And then a little later, Ripken, Roenicke, Lowenstein, Boddicker, and Davis.
Sorry about that. Got swept up in nostalgia for a moment. (If you happen to be an Orioles fan, leave a comment below of your favorite all-time Oriole. Mine is Bumbry.)
There have been a lot of changes to the game since those Orioles' glory days. Expansion. Relocation of teams. Interleague play. Astronomical salaries. The Red Sox finally winning the World Series. But perhaps one of the most notable changes to the game has been on a micro-level: the specialization of players, especially pitchers.
Years ago, a starting pitcher would usually pitch a complete game and only be relieved if he got in a jam, ran out of gas, or was getting hit hard. If that happened, the manager would bring in a second pitcher, who would usually finish it up. That was it. Pretty straightforward.
But that is no longer the case. Now, a starting pitcher gets credit for what is called a "quality start" if he goes six innings while giving up three or less runs. That would have been a pretty bad day for Orioles' pitchers of the 70s. Now, when the starters leave a game, they are not followed by one other guy who finishes it out, but rather by a litany of specialists.
Long relievers. Left-handed set-up men. Right-handed set-up men. Eighth inning specialists. And finally closers, who today usually throw just the ninth inning, unlike 30 years ago when they would often throw three innings to close a game. Some pitchers even are called on to get one out before leaving a game. On a regular basis!
So, why am I sharing this beyond the fact that I am in the mood for baseball? Well, because I think baseball is a good word picture for how parenting has become similarly specialized today.
Parents today are saturated with specialists who can help in pretty much any area of our kids' development. Sports. Art. Dance. Music. Education. You name it, there is probably a coach or tutor, or a website, where parents can turn to specialists to help our kids.
And all of that is great. Except when it comes to the gospel.
The gospel is one area where parents should not—cannot—hand off their kids to specialists. But, unfortunately, that happens much too often. Parents see the church as the gospel specialists, and so, just as they take their kids to the guitar teacher, math tutor, and gymnastic coach, they take their kids to church and abdicate their role of discipling their kids and rely on kids leaders and pastors instead.
Let me be clear here to avoid any misunderstanding. God has given the church a place in the spiritual development of kids, and it is an important one. It's just not primary. Parents are the primary disciplers. The church has been called to come alongside parents and help equip them and support them in their primary calling. Put it this way, I consider it a win if I share something with my 1-3 graders on a Sunday morning and they tell me they know it already because they learned it at home. I love to hear that! That's how it should be. Parents are leading the way in sharing the gospel with their kids, and kids leaders are echoing and supporting what is taught.
It's not an issue of either-or. It's both-and. The core issue is really who leads the way. And according to the Bible, that would be the parents, not the church.
This week's session, God Reminded His People of His Covenant (Deuteronomy 5:1—6:25; 8:1—11:1,26-28), contains what is perhaps the clearest calling for parents to disciple their kids. Of course, I am talking about the Shema in Deuteronomy 6:4-9. (This is called the Shema because it is based on the first word of the Hebrew text—shema—which means "listen" or "hear.")
4 "Listen, Israel: The Lord our God, the Lord is One. 5 Love the Lord your God with all your heart, with all your soul, and with all your strength. 6 These words that I am giving you today are to be in your heart. 7 Repeat them to your children. Talk about them when you sit in your house and when you walk along the road, when you lie down and when you get up. 8 Bind them as a sign on your hand and let them be a symbol on your forehead. 9 Write them on the doorposts of your house and on your gates.
Let's break this text down in bite-sized morsels and walk through it together to see the logical progression we are given.
It Begins with Grasping the Uniqueness of God. (v. 4) God is One in essence (an important aspect of the triune nature of God), and He is also One in uniqueness. There is no other like God. No one shares His divine attributes of omniscience, omnipotence, and omnipotence. No one shares His perfect love, grace, and mercy. He alone is Creator and Sustainer of all. This is where the gospel begins. We have to understand God correctly and we have to value Him accordingly. He is not just one god of many we could have pulled off the shelf. He alone is God and He alone is glorious.
God's Uniqueness then Prompts Love. (v. 5) As we grow in our understanding of who God is, our love for Him will increase in proportion. You cannot gaze upon His majesty, grace, love, goodness, mercy, wisdom, provision, and other characteristics without loving Him more. This love is not simply an emotive love, although that is certainly part of it. It involves all of us. Our love for God should frame how we think, how we live, how we speak—everything.
Love for God then Prompts Love of His Word. (v. 6) There are two ways we know about God. The first is called general revelation. By this we mean that we see God, generally, all around us. We see His fingerprints in creation. General revelation is insufficient for salvation because it shows us that there is a God and it shows us what He is like to a degree, but it does not tell us about the specifics of the gospel. That's where special revelation comes into play. By this we mean that God has revealed Himself to us through His Word, the Bible and His Son, Jesus. As we love God more, we will want to spend more time with Him in His Word so that we can know Him more. Notice that we are three verses in, and we have yet to read anything for how parents are to interact with their kids. This is not accidental. God is telling parents that we need to get the gospel deep down into our hearts first before we can even think about discipling our kids. We cannot pass along what we don't have. As kids leaders, this means that we need to do all that we can to help parents love God. We need to encourage them and partner with other ministry leaders to provide opportunities for them to grow in their relationship with Christ.
Love of God's Word Prompts Integrating It into Daily Life. (v. 7) If you spend much time with me, it won't take you long to hear about my family, coffee, and food. Why? Because I love each of them. (Not in the same way, or to the same degree, mind you.) We talk about what we love, right? So as parents, when we deeply and fully love God, it will work its way out of us in daily life. Repeatedly. The "sitting," "walking," "lying down," and "getting up" is a poetic way to say "always." Can you think of a time when you are not lying, sitting, standing, or walking? So parents are supposed to talk about God and His Word over and over again throughout the normal course of a day. Now, this doesn't mean that we are to hold a 24-hour Bible study. What it does mean is that we are to weave the gospel into daily life to show how it connects to all of who we are and what we do. Parents are to continually drive our conversations to the gospel foundation for living. We don't just tell our kids to be nice to each other, we drive them to the gospel reasons for doing so. We don't just tell them they cannot watch a certain show, we drive them to the gospel reasons for why it would be harmful. We position the gospel to inform our decisions, our activities, our conversations, our budgets—everything.

I would be remiss if I didn't say one more thing about this verse. Think about the specific portion of God's Word He was instructing the parents of that day to teach their kids. They had Genesis, Exodus, Leviticus, and Numbers for the most part. Now think about the stories in those books that God instructed parents to teach their kids. Many of the stories are ones many would rather not teach to our kids today because they are considered too dark or violent. Now, here's the thing. Do we think that kids in that day could handle these stories, but our kids today cannot? Do we think that God would give parents today a pass on teaching these stories because He knows our kids are too fragile? At The Gospel Project, we don't believe so. We believe that these stories are essential to communicating the gospel and that is why we include them in our scope and sequence each cycle. We don't want to stress parents and teachers, but at the same time, we don't want to skip foundational Bible stories, even if they are more challenging to teach.

Integrating God's Word in Daily Life Makes It Part of Us. (v. 8) The more we talk about God's Word in the home, the more it becomes part of us. That is the imagery of binding it to our wrists and foreheads. While Orthodox Jews have done this literally through phylacteries, it is more important that the Word of God is absorbed into us and is a natural part of us. Our goal should be that we move from starting with an issue and working to find how the gospel connects to it, to seeing the gospel clearly in all the issues we encounter. In other words, our thinking should begin with a gospel worldview that comes naturally for us.
When God's Word Becomes Part of Us, It Defines Our Homes, Families, and Lives. (v. 9) Finally, when the gospel has become a part of us and flows out of us naturally, our homes, families, and lives will be marked, or defined, by it While we can certainly adorn our homes with gospel truths, it is that much better when our gospel living adorns our homes. People should be able to quickly and clearly recognize the gospel as what gives us identity and purpose.
As you prepare to teach this week, I want to encourage you to take some time to pray for the parents of your kids. Pray that they are taking their role to disciple their kids seriously and joyfully. Ask God how you can encourage, exhort, and equip them to live Deuteronomy 6:4-9 in their homes. Be your parents' greatest advocate and supporter in their mission to share the gospel with their kids.
How do you balance your role as a kids leader with the primary role of parents discipling their kids? Let us know in a comment below.
Here is more help for leaders preparing for the February 28, 2016 session (Unit 6, Session 5) of The Gospel Project for Kids.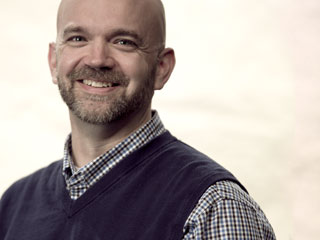 Brian Dembowczyk is the team leader for The Gospel Project for Kids. He served in local church ministry for over 16 years before coming to LifeWay. Brian earned an M.Div. from the Southern Baptist Theological Seminary and a D.Min. from the New Orleans Baptist Theological Seminary. Brian, his wife, Tara, and their three children—Joshua, Hannah, and Caleb—live in Murfreesboro, TN, where Brian enjoys drinking coffee and teaching 1-3 graders at City Church.